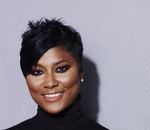 Jamilah Creekmur, of Baltimore, MD, is an entrepreneur and author. Having completed a 15 month transition from her last job, Jamilah currently holds the title of Partner and CEO of her own consulting firm, Harbor Digital Group, with her business partner & Software Engineer, Derek Frempong. They decided to join forces and launch Harbor in January 2010.
Jamilah then began her groundbreaking work with AllHipHop.com. In her first 3 months of her tenure at AllHipHop.com, she had doubled the earnings of the business, and a year later, led the company to make its first $1 million dollars in advertising sales revenue. Under her guidance, the the exponential growth of AllHipHop.com's online stats metrics led the site to become the #1 Hip-Hop site in the world, competing directly with sites like BET.com & MTV.com, and being named by peers as "The CNN of Hip-Hop".
She was instrumental in forging a number of significant partnerships and business deals, including investment & acquisition opportunities; the successful launch of AllHipHop Week, AllHipHop's College Rep program, AllHipHop Mobile, AllHipHop Radio, and has negotiated several multi-year, multi-million dollar deals on behalf of the company.
Her role at Harbor has many parallels to her last position at AllHipHop.com, with the main difference being that she is now a Business Owner, versus a Senior Executive. Jamilah manages all of Harbor's financial operations, strategic partnerships, capital investments, and business development. Additionally, Jamilah also manages her own publishing company, Imagine Me Publishing, where she is preparing the release of her 1st book, Raised by The Mistress, August 2010.
In 1998, Jamilah went from the University of Delaware, where she studied in a double degree program, and headed to the prestigious Fashion Institute of Technology (F.I.T.). in New York City, to follow her love for Business & Fashion. Above all of her achievements, Jamilah is most proud to be an entrepreneur, a wife and a mother to an amazing little girl.
We will highlight Mrs. Creekmur, and nine other phenomenal women, at The BOSS Network's "Influencers" event on September 8, 2010 in Washington, D.C. You can register for the event on the right of the page. Come out and be inspired!